Frequently Asked Questions (FAQs)
---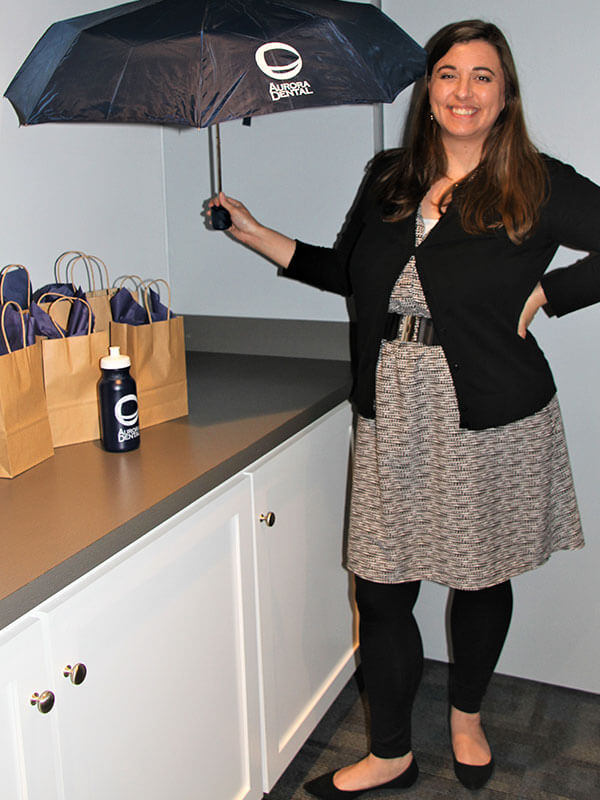 ---
Policies
---
What kind of payments do you accept?

Copayments are expected at the time of service. For our patients not enrolled in insurance or discount plans, a 10% full payment courtesy discount will be applied to each visit when payment is made in full with cash, check, VISA, MasterCard, American Express, or Discover. We also offer our patients without dental insurance our Aurora Dental Discount Plan. We also accept Care Credit which is a 12-18 month interest free financing service available to help you move forward with your dental needs.

How will I know if my insurance covers my treatment?

We offer a complimentary benefits check for all our patients to determine the most accurate cost associated with your individual dental plan.

What insurances do you accept?

We accept all PPO dental plans; however we would be happy to do a complimentary benefit check to see if we are in network with your individual plan.

How much will my treatment cost?

The cost per each procedure varies and depends on your individual dental plan. Our treatment coordinator will work with your dental plan and give you the most accurate estimate for your procedure. However all estimates can vary and are based off of information we try to gather from your dental carrier.

How long will my appointment last?

At Aurora Dental, we know your time is valuable and we do our very best at scheduling you for the least amount of time and making sure your appointment length is accurate. We take pride in the fact that our patients very rarely sit and wait for their appointment. Each procedure will last a different amount of time, and our qualified team members can better answer that question when y our treatment is planned.
---
Services
---
Will my procedure hurt?

In our office we strive to be as painless as possible with every procedure. We pride ourselves in pain management however every patient's pain level is different. We will always try to keep you comfortable throughout the appointment.

Is it possible for me to postpone the prescribed dental treatment?

Yes! It is very important to take immediate action when any treatment is planned by our highly qualified dentists. Dental disease can affect not only your oral health but also other systems in your body such as your heart, or autoimmune system, therefore all treatment should be scheduled and completed as quickly as possible.

What are the benefits of fluoride for adults?

Fluoride is a key component in preventing dental decay from occurring, even in adult ages. The fluoride can remineralize areas of slight decalcification and reverse the dental decay from continuing to damage, however this is just in the very beginning stages of the disease process. Fluoride can also prevent tooth sensitivity, such as what you would get if you had recession or receding "gums". We highly recommend all adult and children getting a fluoride treatment every preventative care visit to prevent dental disease from happening.

How much radiation do I get from dental x-rays?

We use digital radiography which decreases your radiation exposure and is safer for every patient. The exposure to radiation is very minimal and also targeted to a small area. The use of our digital x-rays reduces the amount of radiation by up to 80% in some instances.

Why do I need a periodontal examination?

The periodontal examination is performed once a year, sometimes more, depending on your periodontal condition. The exam measures your bone level and the health of your "gum" tissue. It allows us to have baseline numbers to evaluate the overall health of your mouth from year to year. 


What types of whitening programs do you do offer in your office?

At our office we offer a great program to all patients called our Whitening For Life program. The cost is $129.00 to enroll and includes the first treatment stage. Every preventative care appointment after that, as long as you keep it every 6 months, you are give free whitening solution to keep up on that bright smile! Ask your dental hygienist for more information about this program at your next preventative care appointment!

Will my teeth become sensitive when I whiten them?

Sensitivity can occur during and after the whitening treatment and is different for every individual. There are products that will be recommended to alleviate or prevent any of these symptoms from occurring.

Does your office provide dental implant treatment?

Yes! Our dentist is highly qualified and has been placing implants for over 12 years!

Does your office perform Root Canal therapy?

Yes! Our dentist does almost all procedures in office, which is a benefit for most patients. No need in finding a second or even third dentist to complete your treatment.

Does your office offer full or partial Dentures?

Yes! We also do implant retained dentures. These types of dentures help to secure your denture in place so that you are more comfortable and they provide you with better function while talking and chewing.